We were looking for ways to help, and we heard you loud and clear!
Help support your London and St. Thomas food banks.
---
Insurance is the act of protecting people from financial disaster. That's our job, and what we pride ourselves in doing every day! Right now, the world is facing a new set of challenges with the covid-19 virus. So what better way to protect our communities than by supporting those who are falling on hard times. 
We are proud to have raised $2,700 - meaning 440 bags of granola are now in good hands! 
Food security in our communities
We were thankful to have the ability to pivot quickly into a working-from-home model to protect our people. We are also thankful to be recognized as an essential service that protects our communities, thus allowing us to remain open for business (digitally). We knew we needed to find a way to help! 
We put out the call to our staff and to our communities to let us know how they would like us to help. Overwhelmingly, you requested that we support the London and St. Thomas Elgin Food Banks.
We started brainstorming ways to get involved, and we knew that 2 things needed to happen:
We wanted to support a local business and our local economy 
We wanted to help with something that usually isn't donated 
While chatting with our friends at the London Food Bank, they told us that they were (and often are) low on healthy breakfast foods, especially now that school breakfast programs weren't running due to Covid-19. This is when the perfect partnership was created! 
We've Partnered with Living Alive Granola!
Anyone who knows Stephanie from Living Alive Granola, knows just how passionate she is about her St. Thomas community, as well as solidifying food security. As someone who battles with her mental health (hear her story here!), she has experienced food insecurity. She has always felt supported by her community and was thrilled to help us in our mission. 
You can purchase granola through her website, and simply note that it is apart of our food drive! To abide by social distancing measures, all donations that we collect through the Living Alive website will be set aside, and Stephanie will deliver half to the St. Thomas Elgin Food Bank, and half to the London Food Bank. 
Thank you so much for your help and selflessness, Stephanie!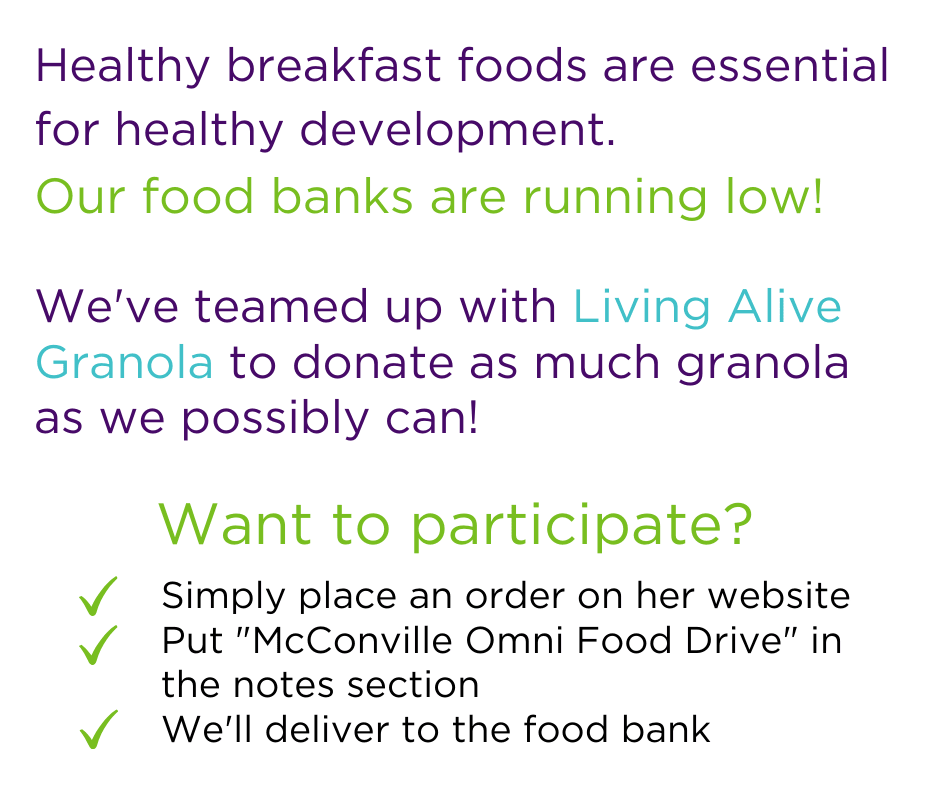 Are you able to support our mission? Place an order here!
Submit Idea   If you have another idea on how we can help our communities, submit it here!